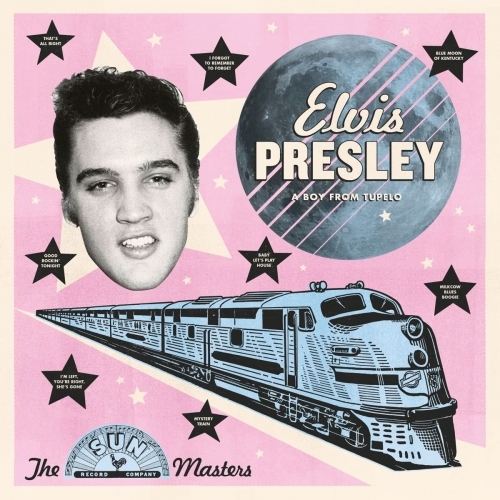 Deze vinylversie, 'The Sun Masters: A Boy From Tupelo', bevat tien originele singles die Elvis op Sun uitbracht, waaronder "That's All Right", "Good Rockin' Tonight" en "Mystery Train", vijf Sun masters die door RCA op Elvis' eerste album Elvis Presley (1956) verschenen, en twee opnames ("Tomorrow Night" en "Harbor Lights") die later uitkwamen.

Deze vinyl versie hoort bij de 3CD 'A Boy From Tupelo – The Complete 1953-1955 Recordings', de definitieve collectie opnames van Elvis in zijn Sun jaren. Elke master en outtake die de tand des tijds heeft overleefd is op deze 3CD te vinden. Ook de opnames van twee privé plaatjes die Elvis met zijn eigen geld heeft betaald en alle bekende radio- en liveuitvoeringen uit deze periode zijn inbegrepen.

Veel van deze opnames zijn zeldzame demo's, sessie opnames en live uitvoeringen, waaronder een recentelijk ontdekte en nooit uitgebrachte opname van "I Forgot To Remember To Forget" van een Louisiana Hayride uitvoering uit 1955. De door Elvis zelf betaalde opnames zijn de zgn. Memphis Recording Service Acetates: "My Happiness"/"That's When Your Heartaches Begin" en "I'll Never Stand in Your Way"/"It Wouldn't Be the Same (Without You)". Beide producten zijn vanaf 28 juli beschikbaar via ShopElvisMatters!